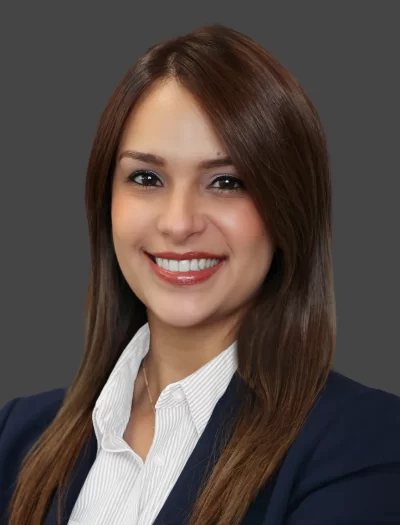 Bibiana Ordonez Vallecilla
Associate Attorney
Bibiana joined Ron Austin Law as an associate attorney in August of 2022.
Credentials
Education
Juris Doctor, Universidad Cooperativa de Colombia (2012)
Criminal Justice, Delgado Community College (2017)
Master of Laws (LL.M) in U.S. Law, Loyola University New Orleans – College of Law (2019)
Licenses & Certifications
Worker's Compensation Certificate (2020)
License to Practice Law in Louisiana (2021)
Notary Public Appointment (2022)
Bibiana joined Ron Austin Law as an associate attorney in June 2022. Bibi received her Juris Doctorate in Colombia (South America) in 2012, where her primary focus was Successions and Donations Law. Bibi came to the U.S. with the purpose to further her career in 2015. She studied Criminal Justice and earned an academic scholarship to attend Loyola University New Orleans in 2017. Today, Bibiana is admitted to the Louisiana State Bar Association, to the Superior Council of Judicature of Colombia, and has been appointed as Notary Public in and for the Parish of Jefferson, La.
Bibi's passion, job ethic, and leadership make her great at what she does. She is bilingual and as an active member of the Hispanic Lawyers Association of Louisiana, Bibi has served and supported the Hispanic Community in every possible way. One of Bibi's goals in the long-term, is to support our Community creating different free legal advice programs and incentivizing pro-bono to those who cannot afford legal counsel.
Bibi's main legal experience has been in areas such as Immigration, Workers' Compensation, Premises Liability, Products Liability, Automobile Accidents, and Medical Malpractice. Her growth strategy is "work hard," and there is just one thing that she doesn't do, Bibi doesn't give up!